Da Vinci Nationwide Kids Art Competition returns with fabulous prizes to reward bright creative kids all around Malaysia! In conjunction with the upcoming release of "Big Hero 6", It is our honour to partner with Walt Disney Studios Malaysia, in launching "I Am A Hero" Mask Design Kids Art Competition! Here's the chance for your little heroes to show us your creativity and win great prizes worth RM43,800 in total!

The competition is open to all children from age 5 to 8 years for Category A and 9 to 12 years old for Category B. Participants are required to imagine themselves as the new heroes, design their own iconic hero mask and tell us what their hero abilities are.

Closing deadline is 31 October 2014. Don't miss the boat!

<Click to view larger>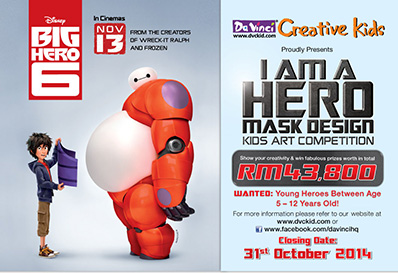 <Click HERE to download template>
* Please print out the entire template in A3 size.
<Click HERE to enter competition official website>



Entries Submission Methods


Method 1 – Submission via Facebook
(To access the app, visit Da Vinci FB page:
www.facebook.com/davincihq
).
Method 2 – Submission via Email
<Click HERE to download Email Entry Form>
Send in a CLEAR photo of your artwork and the making process together with the form to:
davincicommy@gmail.com
.
Method 3 – Submission via Mail (Not advisable for crafts)
Complete the Entry Form, paste it at the back (left-hand upper corner) of the art block and mail  it to:
Da Vinci Nationwide Kids Art Competition
Da Vinci Creative Kids
28, Jalan PJS11/28A, Bandar Sunway,
47500 Subang Jaya, Selangor Darul Ehsan.
ONLINE ARTWORK SUBMISSION GUIDELINES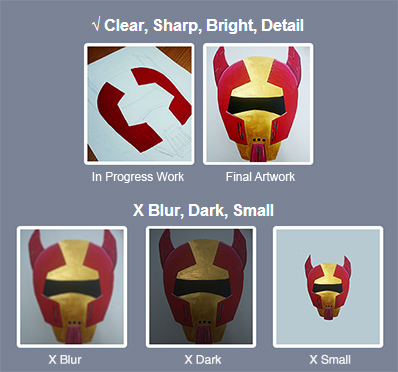 <Click HERE to to view online artwork submission guidelines>
All shortlisted participants will be announced on
8 November 2014
. These shortlisted artworks will also be uploaded on our Facebook for Da Vinci's Most Voted Mask Design! Stay with us on Facebook for the exciting news!
Get our hot sizzling latest updates on Da Vinci HQ Facebook page today!